​Year 11 and 12 Drama Excursion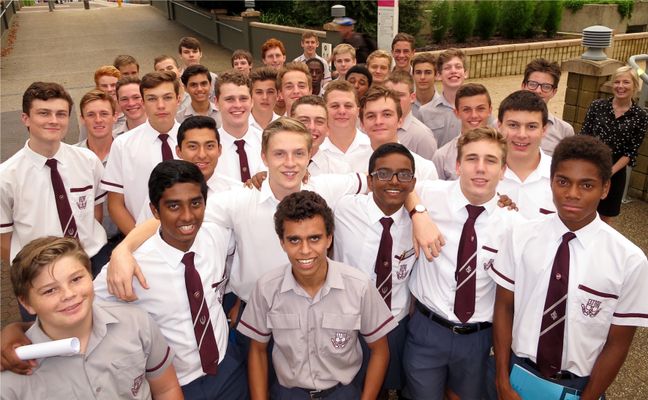 Year 11 & 12 Drama students and teachers attended our first Drama excursion for 2016, to see Queensland Theatre Company's monumental production of, "The Secret River." This play was adapted from the novel by Kate Grenville. This play is inspired by true events and follows a convict's life in Australia and his dealings with the Dharug people of the Hawkesbury River. Prior to this excursion, Rickie Dodd, our Indigenous Liaison Officer, visited our class and discussed the historical context with the boys. The production proved very moving and memorable and has generated much conversation and thought amongst our Senior Drama students...
"The play really increased my levels of empathy and respect towards the Indigenous People"Year 12 Drama student, Harry Duckworth
"The main message of this play for me is to respect others for their differences, whether this be in their way of living, religion etc."Year 11 Drama Student, Harrison Bouckley.
"I thought the play was really powerful and taught us a lot about the history of Australia and why we have to learn from mistakes in the past. All the boys enjoyed the play and felt very fortunate to see it as it was a great night. Many thanks must go to the teachers who organised the night because without them these occasions don't take place." Year 11 Drama Student, Wolfgang Wallace
"The show was great. I think the boys have taken a lot from the experience and realised just how lucky we are to be where we are today in society. The performance had a great message shedding light on Australian history and I think it will propel us forward not only as students but as overall men."Year 11 Drama Student, Ben Maynard

"I think the main message of this play was that there was a missed opportunity for peace between the two cultures." Year 11 Drama Student, Jackson Bray
"The Secret River was by far the most enjoyable play I have viewed and had a great message behind it. It was an awesome night, an awesome experience and great way to see how plays can be performed on stage – very useful for future assignments and performances. It was so good in fact, that there was a standing ovation at the conclusion of the play."Year 11 Drama Student, Tom Fanshawe
"The Secret River has opened my eyes to the trauma caused by the white settlers to the Indigenous People." Year 11 Drama Student, Griffin Hardy
"The main message I got from this play would have to be to respect culture, it is fragile."Year 11 Drama student, Rohan Edwards
"The climax of the play made me feel deeply for the Indigenous people."Year 11 Drama student, Jack Hansen
"I feel the main message in the play is that Australians should never forget the injustice that occurred at this time. This play shows that no matter how different in looks, culture and history, if we respect each other and strive to see each other's perspective we can all get along." Year 11 Drama student, Tom Carney
"I believe that it was immensely important for people of our age to be exposed to this type of material because it delivers such an important message. A message that if hatred and prejudice is not controlled and eliminated, nothing good could possibly come from it."
Year 12 Drama Captain Clancy Enchelmaier