Why reading is important to our boys literacy achievements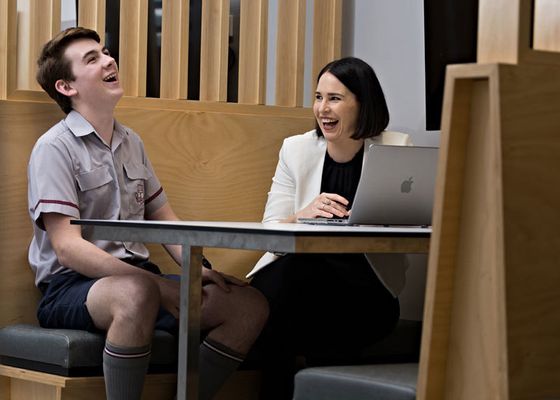 The research is in. Actually, the results have been in for several years now. And things don't look great.

Boys are apparently behind when it comes to their literacy levels of achievement. Numerous studies show that boys' literacy levels are behind girls. According to Disenhaus (2015), there is 'the existence of a persistent gender gap in literacy achievement…: boys trail girls in every assessment at state, national and international levels' [1].

This data is real for a lot of boys across Australia. However, at Ipswich Grammar School, our data is telling a different story about our boys' literacy and numeracy levels. Our NAPLAN and ATAR scores are contradicting the state, national and international trends. And we couldn't be prouder of the boys' achievements and progress in these areas.

It is the Explicit Teaching that happens inside of our classrooms that is the key factor to our boys' success, and as we continue to strive for exceptional performance in this area, we believe there is still room for improvement. After all, we know that reading and writing are lifelong skills that transcend all subjects and will be one of the skills that boys carry into adulthood.

One of the ways in which we can continue to build on our improvements of boys' literacy is to encourage boys to read both inside and outside of the classroom. We need to role model to our boys that reading is important; that reading stimulates the brain and enhances knowledge.

However, we also need to destigmatise the idea of what constitutes reading: reading is more than just books (but reading is also not mindlessly scrolling social media platforms).

Reading is about actively engaging with texts. Sometimes, we forget that texts come in many different shapes, sizes, and genres. You don't have to dust off the old Dickens and force your son to read it. In fact, this might deter your son from reading altogether.

Instead, consider other ways in which to create shared reading experiences with your son that will stimulate conversation. Here are a few suggestions to get you started.
Read the essay The Art of Failure by Malcolm Gladwell published in The New Yorker. Perhaps you can then speak with your son about a moment where he "choked" under pressure and what he did or didn't do to bounce back.
Listen to an audiobook while you drive to Saturday Sport. Try The Resilience Project by Hugh van Cuylenburg and begin to find moments to be grateful together.
Try a short story. Short stories are great because in one sitting a boy can have a complete experience of reading - all within a defined time. This link provides a list of Young Adult short stories from authors such as Markus Zusak that might be of interest to your son.
If you want to encourage your son to read, and consequently improve his literacy, the most important thing you can do is to be a reader yourself and value the act of reading. As Kofi Annan says, 'Literacy is a bridge from misery to hope,' and so it is with hope that you will begin—or continue to— encourage your son to engage with various texts so that his literacy will continue to improve.

Catherine Cuddihy
Dean of Academics

[1] Disenhaus, N 2015, 'Boys, writing, and the literacy gender gap: what we know, what we think we know', PhD Thesis, The University of Vermont.