Understanding how boys best learn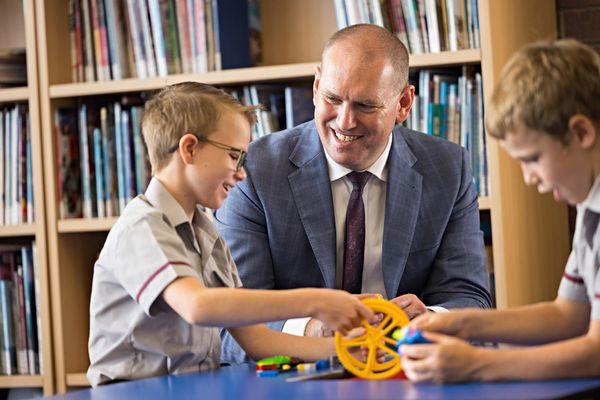 Understanding how boys best learn and what we can do to engage them in their learning is something we continue to strive be experts in. I have read many articles relating to boys' education and Dr Ian Lillico certainly remains at the forefront in his knowledge and understanding of how boys' tick. Some key aspects he recommends for educating and raising boys, based on many years of research, are a good reflective measure for what we do each day at school with our boys.
In reflecting on the following five key points Dr Lillico suggests to build success for boys in their learning, there is a strong connection to what we do for our boys in the Junior School.
Stand And Move
We have defined learning spaces that allow teachers to build in movement for our boys through transitions between warm-ups and lessons. Our furniture is purpose-built to enable movement in the boys' chairs, with our Year 5 and Year 6 classrooms, also having stools to allow for boys to stand. Boys need to move and should not be sedentary for too long.
Look Then Write
Using visuals, such as still photos improves the functional literacy of students, especially prior to writing. This is part of the Daily Writing Warm Up (DWWU) that our teachers use each week, to not only develop sentence structure, but importantly enhance vocabulary. Using photos to glean information and holding that image in your head is vital to our boys.
Build Respect
Developing respectful relationships is a key for any teacher who is going to get the best out of their students. It is one of our six 'givens' for our teachers, who put time and effort into knowing their students, their likes and dislikes. Our simple gestures that we reinforce consistently assist in building respect through having boys shake hands and look someone in the eyes. Additionally, when an adult enters the room, the boys will stand to greet them.
Encourage Care
As parents we should spend quality time with our sons and as teachers we need to ensure we not only model that through listening to our boys but facilitate positive peer interactions. Our You Can Do It program assists our teachers to develop empathy, care, thoughtfulness, and mateship in our boys. We provide opportunities for our boys to mentor each other, which also encourages a sense of responsibility and care.
Evidence-based Learning
Above all, use evidence-based learning to enhance boys' learning. Explicit Teaching (ET) is evidence-based learning. It is at the core of what we do with our boys in the classrooms each day. Our continual data capture of our boys' learning through their Friday Book assessment and Week 4 and 8 reading assessments, ensures we are aware of each of boy's progress at any point in time.
It is reaffirming to reflect on advice from leaders in education, such as Dr Ian Lillico, which support what we do at Ipswich Grammar School. Our school has been educating boys for 159 years, however, in an ever-changing world, we will forever continue to strive to deliver a high-quality education that best meets the needs of our current boys.
Ben Gates
Head of Junior School