IGS App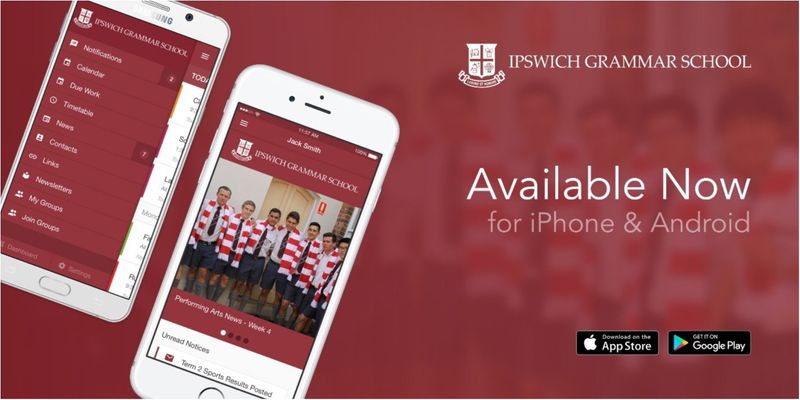 The long anticipated wait is now over. Since the introduction of Schoolbox at the beginning of 2016 we have had a great response and take up. Now, to extend this, we have a mobile App that will further enhance the experience, access and communication with the wider school community.
To use the App, simply login using your existing Schoolbox credentials, it is as simple as that.
The IGS App is designed to allow Ipswich Grammar School parents, teachers and students to access important information about events and daily activities at the school.
The App includes the following features and information:
Notifications: Receive personalised information relating to you and/or your child as a push notification. As default you will still receive School-wide notifications in addition to any groups that you have joined.
Calendar: The event calendar ensures that you are constantly up-to-date and in the loop with the events of Ipswich Grammar School. Not sure when a Sports Event is on? Check the calendar.
Due Work: Parents and students will be able to view when and what assignments and assessments are due.
Timetable: Students can view their personal timetable and click through to their class pages.
News, Notices & Events: The notification and news sections keeps you informed of important daily events as they become available. Push Notifications will also be sent to inform you of any urgent or important information. Buses are late? The notification section will alert you.
Contacts: Call and email important school contacts. Want to speak to the reception? Call them straight from the App.
Links: Instantly access online resources that the school makes available through the links module. This includes access to portals like Flexischools, Schoolbox and the main School website.
Newsletters: Receive the latest newsletter directly through the App, or peruse the newsletter archive.
My Groups: View groups that you belong to instantly through the new IGS App. This feature will allow you to manage what groups you have joined or subscribed to.
Join Groups: The Join Groups feature allows you to select and subscribe to an interest group on which you would like to receive notifications. Groups include sports activities, music and other extra-curricular areas.

Downloads
Download the iPhone/iPad App from the iTunes Store

Download the Android App from the Google Play Store
Feedback
We welcome any feedback and suggestions.
Please contact mailto: informationservices@ipswichgrammar.com or phone (07) 3813 9653 for further assistance.